Teachers & Certified Staff
Grow your Career with Missouri NEA. 
Missouri NEA and NEA deliver the support you need to be successful in your career. Backed by the 3 million-member NEA, MNEA offers more to support your professional growth than any other education organization. Missouri NEA offers a membership package second to none. Not only do you get the tools, resources, and community of a national organization, but you are also a part of the nation's and state's most powerful voice for public education and the education profession.
Join the state and nation's leading public education advocate.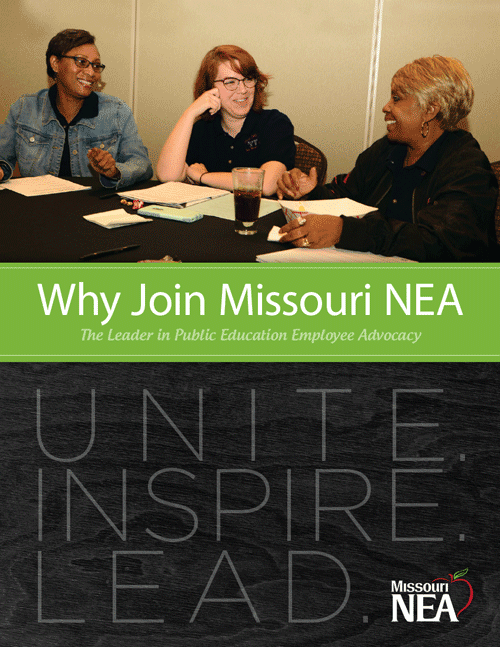 Your voice at the Capitol
MNEA membership gives you a voice in policymaking and decisions that improve education, fund public schools, reduce class size, ensure safe schools, secure technology resources, protect your retirement and the education profession, and expand community involvement in schools. In addition, MNEA delivers:
Full-time lobbyists working on your behalf in the Missouri legislature and U.S. Congress.
Online Legislative Action Center that makes communication about education issues with your legislators easy.
Daily and weekly state and federal legislative updates when legislators are in session.
Campaigns to elect pro-education lawmakers and work to defeat dangerous ballot issues aimed at destroying public education.
Big discounts
Access to exclusive online shopping offers every day and 300,000 discounts ranging from hotels to local dining, shopping, cell phones, rental cars, travel and recreation, oil changes, and new and used vehicles.
Smartphone application with 150,000 discounts just for MNEA members.
Two free legal consultations and discounts on legal services for personal matters.
Experienced financial planning consultants to help with retirement planning, college savings, and budgeting.
Credit cards, money markets, personal and home loans, discounted auto, home, and life insurance
Legal perks
$4 million liability
Educators' employment liability coverage, automatic with membership, includes up to $4 million in damages and legal fees for the defense of most job-related civil lawsuits and up to $35,000 reimbursement for attorney fees in defending criminal charges arising out of job-related incidents.
Free job protection
Every probationary teacher-member who is non-renewed has the option of receiving a legal consultation with an attorney to discuss the legal issues surrounding the non-renewal.
Members who have a child abuse or neglect-related complaint filed against them are entitled to legal advice/representation.
Members who are subpoenaed to appear in court or administrative hearings related to what they might know or have seen in their jobs as teachers are entitled to consultation prior to testimony.
Free and discounted personal legal services
Members also get two free half-hour consultations with an attorney each year for personal matters, such as traffic violations, consumer protection, domestic relations, real estate issues, and wills and estates. Additional time needed beyond your "free" time on these issues is billed to you at a 30 percent discount.
Help when you need it
Full-time trained professionals in offices throughout the state are your front-line defense team to help deal with a wide range of problems. Call your UniServ director at the first hint of trouble. Many situations can be resolved informally in the early stages when you have an experienced advocate by your side. MNEA offers collective bargaining assistance for your salary, benefits, working conditions, and job security. No other organization matches MNEA's expertise and experience on this issue.
Professional Growth and Classroom Resources 
MNEA and NEA offer a wide variety of programs to help you grow your career. Take online training to improve your skills with NEA's micro-credentials, receive a boost from an NBCT mentor, learn how to manage your classroom and student behavioral challenges, or take graduate credits to advance on your salary schedule.
Members will receive monthly updates of MNEA's professional development opportunities and new classroom resources in MNEA's e-newsletter In the Loop. Find details about all the programs at MNEA Professional Development.