Earn up to nine graduate credits for ONLY $200!
Online graduate-level courses through VESI are backed by Avila University.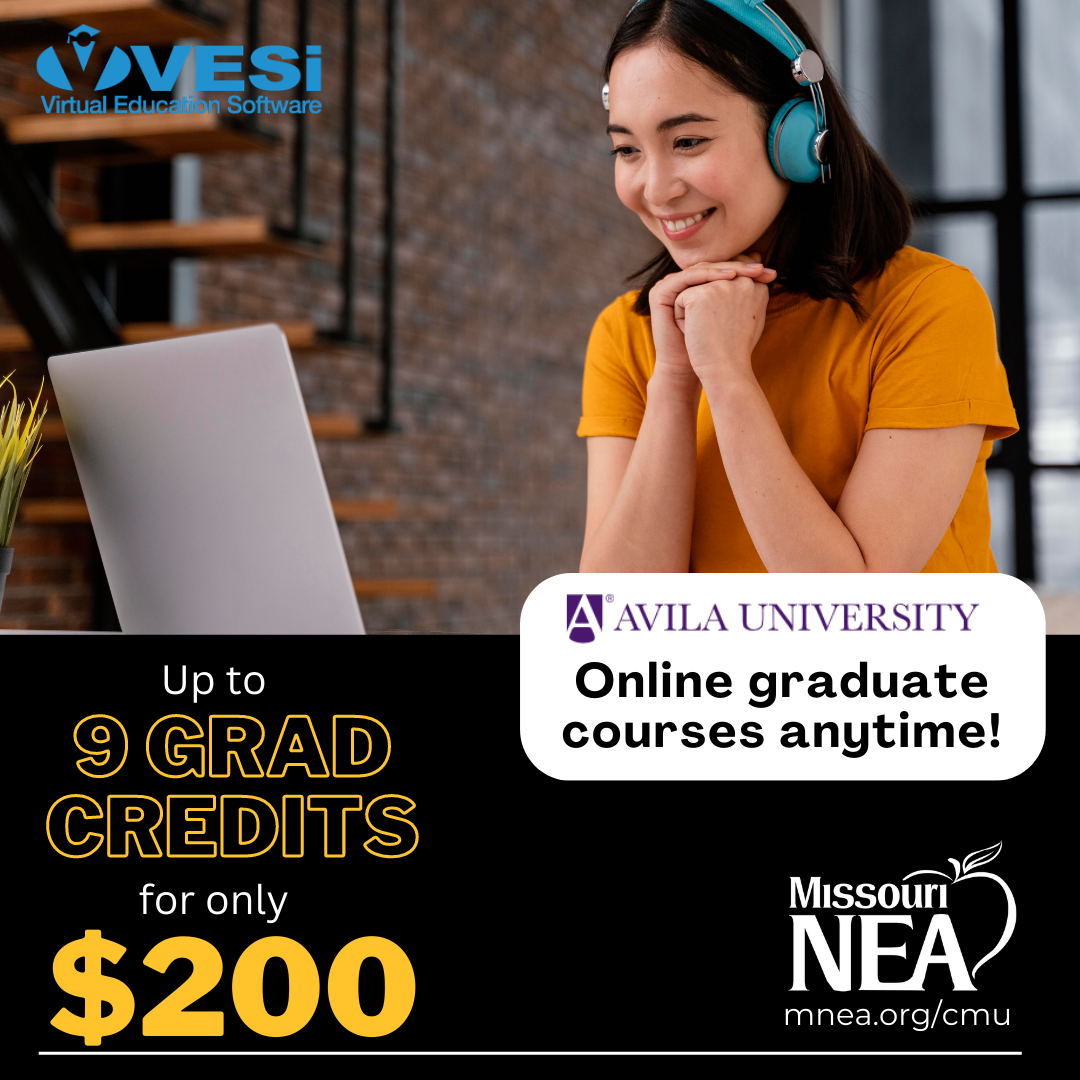 For one low annual fee of $200 (valued at $750), Missouri NEA members may take one course each term (fall, spring, and summer) to complete up to three graduate courses in 12 months. Or you may take two courses in the summer and skip either the fall or spring semester. Each course is two or three graduate credit hours, so educators can earn from six to nine graduate credits.

Choose from 35+ self-paced, online courses for professional growth or salary advancement. MNEA partners with Avila University and Virtual Education Software to offer these courses.


VESi recommends that you check with your school to verify that these course offerings will meet your school district's requirements for salary advancement. If your district says no, please contact your local Missouri NEA president or UniServ director. If you are working on a master's degree, before you enroll you should check with your advisor to see if these courses will be accepted towards your master's degree. The courses are all 600 level courses.Avila University provides the transcript for these pass/fail courses. 
35+ Course Offerings Include:
Advanced Classroom Management: Children as Change Agents
Behavior is Language: Strategies for Managing Disruptive Behavior
Teaching Diversity: Influences and Issues in the Classroom
Attention Deficit Hyperactivity Disorder: Information and Interventions for Effective Teaching
Teaching Elementary Math Conceptually
Talented and Gifted: Working with High Achievers
Understanding Aggression: Coping with Aggressive Behavior in the Classroom
Differentiated instruction
Early childhood
Reading and/or writing 
Secondary math
English language learners
School communities 
Traumatized children
Educational assessment
Learning disabilities
Autism, and Asperger's disorder
Inclusion
Substance abuse
Violence in schools
Harassment and bullying
Child abuse
Members Only
You must be a member to purchase a subscription, enroll in courses, and receive grades for these members-only courses. If you haven't logged in already, please log in below to enroll in courses. If you need your NEA ID, please contact the MNEA Regional Office in your area or find it on your last issue of In the Loop or Something Better.