MNEA-Retired
Retired from our position, but not our profession! 
You may be retired from your career in education, but we know that many of you are still living the good fight for public schools.
Public education and educators face challenges that require the resolve and support of its members -- all of its members, both active and retired. NEA needs your support, your wisdom, and your leadership to forge a path forward. Joining Missouri NEA-Retired gives you the opportunity to remain engaged on important issues facing students, education, and educators.
Join the Organization Working for You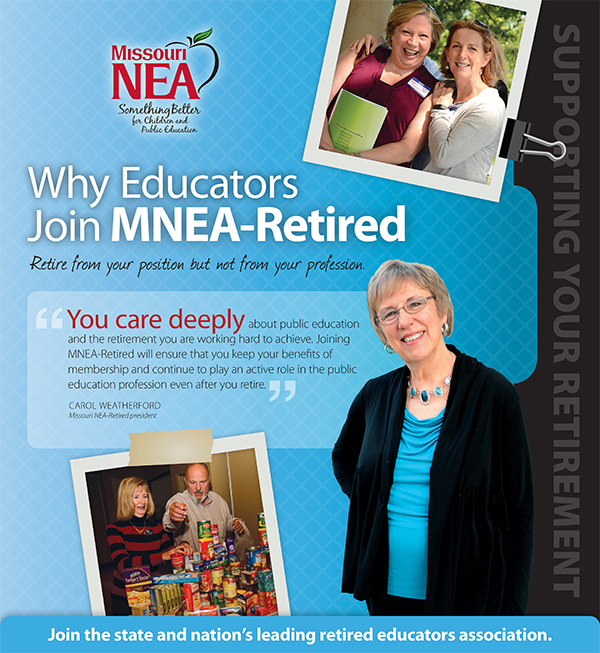 Don't wait until you retire to join.
You can join pre-retired at any time, even while you are still receiving a paycheck from your school district. In essence, you can "pre-pay" for your MNEA Lifetime Retired membership, and it will just roll over when you notify us that you have retired.
For a one-time lifetime subscription fee of $500 or $75 annually, MNEA-Retired membership provides:
$4 million liability-protection policy when substituting in the public schools. 
Membership in a powerful, active retiree organization that understands the value of public education.
A subscription to the informative, high-quality quarterly NEA Today for NEA-Retired Members, Something Better, and pre-retirement planning information to give you a head start on enjoying a financially secure retirement.
Leadership opportunities including voting and holding office in your retired organization and participation in literacy, mentoring, early career educator, and lobbying projects.
Continuing membership keeps you eligible for NEA Member Benefits:

Liability Insurance 
MNEA Member Benefits
Long-Term Care Insurance
Medicare Supplemental Insurance
Financial Planning & Credit programs
Two free 30-minute legal consultations per year for personal matters
Discounts on Restaurants, Travel & Entertainment  
Online
You can join MNEA-Retired or Pre-Retired with a credit or debit card through the NEA.org online enrollment system. Choose to join as an annual member for $75 per year or a lifetime member for a one-time fee of $500. This system will charge the full fee at the time of enrollment. 
Mail-In
You can join MNEA-Retired or Pre-Retired with a check, bank draft, credit or debit card with the MNEA-Retired printable enrollment form. With this form, you can choose to join as a lifetime ($500) or annual ($75) member. You also have the option of paying the lifetime membership dues in a one-time payment or through 10 or 20 installments. 
Contact Us
If you would like to talk to someone about membership, Olivia Compton would be happy to assist you. Please contact Olivia at (417) 569-1402 or by email at olivia.compton@mnea.org. 
CHEER Fund Helps Educators
Caring Help for Education Endeavors by Retirees was formed by MNEA-Retired to be a public benefit by enhancing the learning conditions of Missouri's children. CHEER provides opportunities for MNEA-Retired members to reach out to public school district employees, particularly early career educators, and provide financial and material resources such as, but not limited to the following: 
Providing needed school supplies for classrooms or teachers. 
Enhancing workspaces for teachers and school personnel.
Funding literacy projects.
Funding teacher training opportunities.
Promoting volunteerism.
Participating in programs that relieve poverty.
Promoting school readiness.
CHEER Fund Request application must be received by Feb. 1 each year. The MNEA-Retired President or designee(s) will review applications before funds are awarded. If applications are approved, applicants and sponsors will be notified around March 15 and funds will be awarded soon after.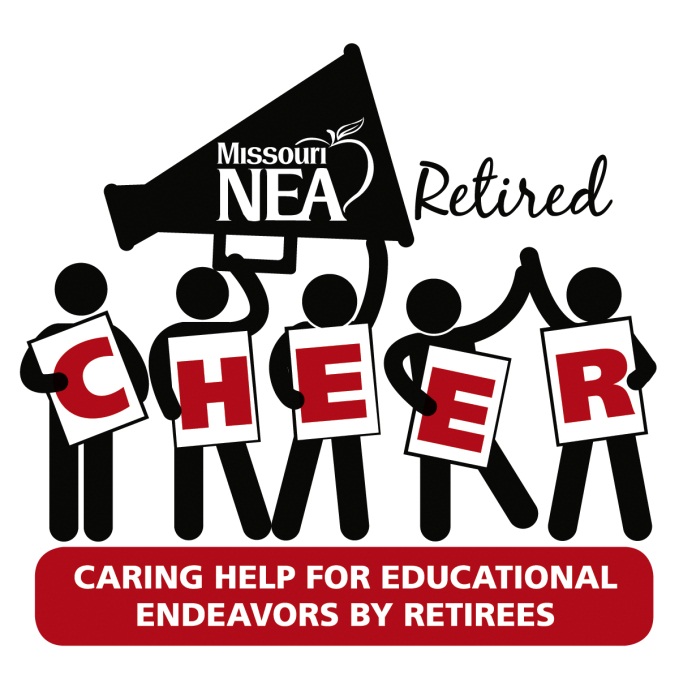 Contributions to the CHEER Fund are tax-deductible as a charitable contribution. You can choose to contribute by mailing in a check or online using your debit or credit card. Through the online donation form, you have the option of limiting your contribution to a one-time donation or recurring donation.