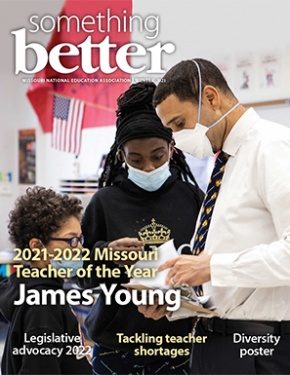 Blog-style electronic edition
Cover Story
Building better humans through music 
Meet James Youg, Missouri's newest Teacher of the Year. 
Missouri 2021-2022 Teacher of the Year James Youn is on the move. A sixth-grade music teacher and Ferguson-Florissant NEA member, Young hustles back to his room from lunch duty to ensure the music room is ready for afternoon classes. Young greets the students as he reminds them of their parts in the upcoming production. Students smile as he calls them by name and encourages them to take their place to begin the afternoon lesson.
Read more of this story in the winter issue of Something Better.