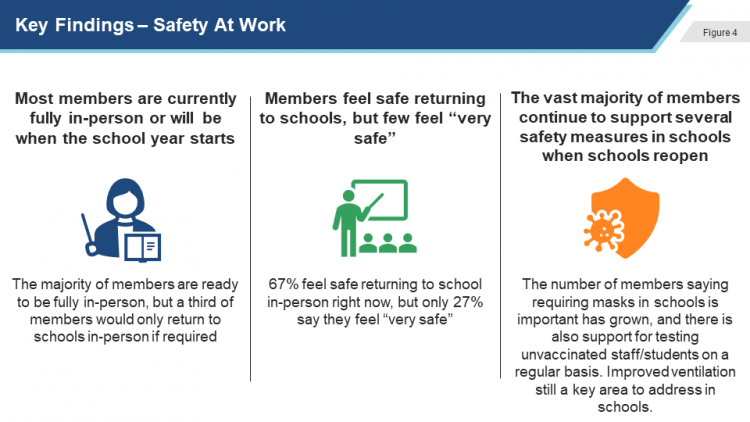 Washington—The National Education Association, the nation's largest union representing nearly 3 million educators, unveiled its latest survey of members' vaccination rates and opinions on key issues facing public education during the pandemic. Conducted by GBAO Strategies, the survey found vaccination rates among members are much higher than among the general public. It also found that nearly all of surveyed members are working in schools in-person full-time this fall. As the Delta variant surges, surveyed members place greater importance on requiring PPE, improving building ventilation, and enforcing physical distancing for in-person instruction.
Below are the key findings:
Vaccination rates among NEA members are much higher than among the general public. Nearly 90 percent of members have received at least one dose of a COVID-19 vaccine.
Educators still have some concerns about safety in the classroom.
A majority of members support vaccine and mask requirements in schools. 
The following statement can be attributed to NEA President Becky Pringle.
"In the midst of a global pandemic, this past year has illustrated what it means to reach, teach, and inspire every student. Educators have gone to extraordinary lengths to serve students and their communities—no matter who they are, where they live, or what they look like—while also tending to their own families.
"Educators remain committed to working together to ensure our local schools are the safest places in the community for every student, educator and family. As students and educators return to schools for the new school year, we are focused on keeping students safe, learning and engaged. And as the latest NEA survey shows, we continue to emphasize that the path for safe in-person teaching and learning relies upon a layered approach, starting with vaccines for all who are eligible, regular testing, and masks. There's much more to keeping everyone in the community safe, but those three are absolutely fundamental. 
"Educators know there is no substitute for in-person teaching and learning. The good news is that right now, millions of students have already returned to their classrooms or are preparing to return for the new school year, many of them for the first time since the start of the pandemic. "