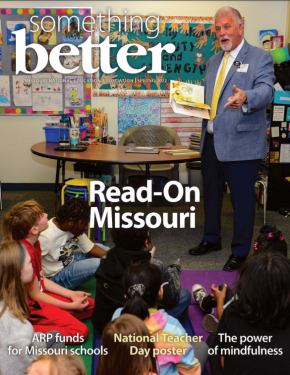 Blog-style electronic edition
Cover Story
Read-on Missouri 
MNEA leaders use virtual and in-person visits to inspire lifelong readers. 
Since 1999, Missouri NEA has celebrated NEA's Read Across America with a state tour aimed at inspiring students to be lifelong readers. The NEA's nationwide reading celebration and MNEA's Read-On Missouri tour take place each year during the first week of March.
This year, MNEA Pres. Phil Murray and Vice Pres. Rebeka McIntosh visited with students across the state sharing their love of reading and their message to students about the importance of being lifelong readers. The tour, combining in-person and virtual visits, showcased a collection of books that celebrate diversity and inclusion.
Read more of this story in the spring 2022 issue of Something Better.