Among 60 awards, representing 23 states across the country, two Missouri NEA members are recipients of the 2022 California Casualty Music and Arts Grant. All demonstrated a strong financial need that aligned with the purpose of the program – to keep music and arts in schools.
Congratulations to the following MNEA members: 
Katherine Aubrey, Gracemor Elementary School, North Kansas City NEA
Stephanie Engelmeyer, Moline Elementary School, Riverview Gardens NEA 
Arts and music programs have long been shown to enhance students' critical thinking skills, foster creativity, and improve their concentration, motivation, and confidence. The arts continue to play a critical role in helping children express themselves, connect with each other, process stress, and stay engaged in their ever-changing learning environment.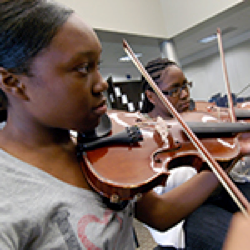 California Casualty's $15,000 in grants will help provide schools with instruments, sheet music, art supplies, and scripts to benefit the fine arts program. Giving more students a chance to learn music, act in a school play, or hone their artistic talents.
California Casualty's Music and Arts Grant program receives applications year-round. To be considered for a 2023 award, educators at public K-12 schools can apply for a $250 Music and Arts Grant at www.calcasmusicartsgrant.com through June 30, 2023.
To qualify, you must be a current member of the state NEA affiliate or one of the other partnering education associations. 
---
Founded in 1914, California Casualty has been providing educators with trusted auto and home insurance since 1951. As the endorsed benefit partner for educator and administrator groups across the country, California Casualty offers members exceptional rates, waived deductibles for vandalism or collisions to your vehicle parked at school, holiday or summer skip payment options, and free Identity Defense. Learn how to save by getting a quote at www.calcas.com, or by calling 1.866.680.5143.