CHEER Grant Application
Request for Assistance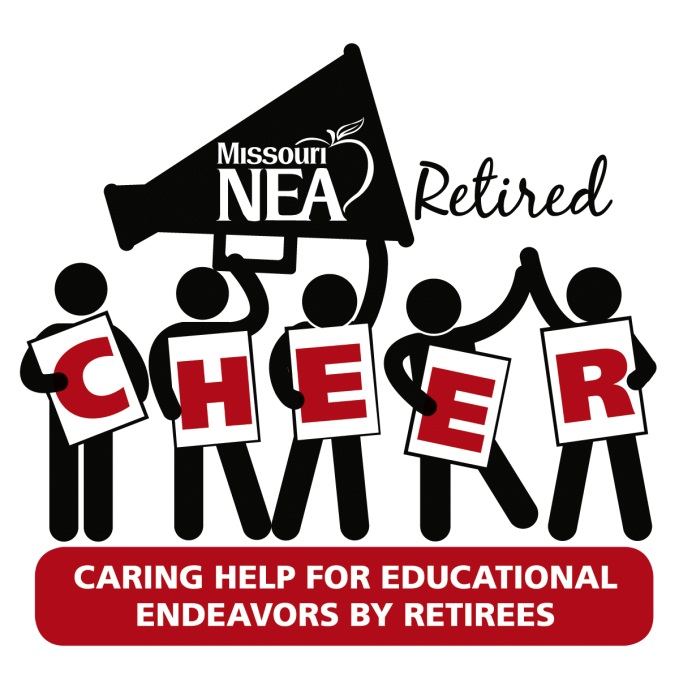 Caring Help for Education Endeavors by Retirees was formed by Missouri NEA-Retired to be a public service by enhancing the learning conditions of Missouri's children. CHEER provides opportunities for MNEA-Retired members to reach out to public school district employees and provide financial and material resources.
Application Process
Complete the Missouri NEA-Retired CHEER Grant Application form online using the form below or print and mail it to Missouri NEA-Retired, Attn: Olivia Compton, 1810 East Elm St, Jefferson City, MO 65101.
Applications must be received by Feb. 1 each year to be considered. Applications received after Feb. 1 will be considered for the following year.
Applications will be reviewed in February each year.
Approved applicants and their sponsors will be notified around March 15 of the funds awarded.
The applicant will be expected to make the purchase(s) and provide receipt(s) by the end of the school year to receive the grant funds.
Sponsors will be expected to deliver the grant check and submit a picture(s) of the presentation to the Missouri NEA-Retired Communications Chair for publicity.
Sponsors and applicants are strongly encouraged to submit photos of students enjoying the project to the Missouri NEA-Retired Communications Chair.
Application Criteria
Applicant must be a current Missouri NEA Active member.
Sponsor must be a current Missouri NEA-Retired member.
Grant application must be complete.
Project description should include specific items to be purchased and/or costs to be incurred to complete the project.
Applicants may be contacted by Missouri NEA-Retired CHEER Chair if the application is unclear or if more information is required. 
Examples of Worthy Projects
Workroom renovations.
Educator classroom setup needs, school supplies, teaching tools.
Buddy pack supplies such as food, snacks, school supplies, etc.
Adopt a library.
Field trips.
Books, games and furniture.
Support staff needs.